Review by Deborah Shatz
(EJNews) – Hidden Gold: A true story of the Holocaust is a suspenseful story of family love and survival in horrific conditions that takes place during the Nazi invasion of Poland from 1939-45. You may think from the title that the hidden gold is a precious coin or a family treasure.  It is actually the surname of a family whose harrowing tale of love, luck, intuition and cunning enabled them to evade the Nazis by hiding in a cramped and squalor crawl space in rural Poland. The Gold family is the hidden Gold, in this true story of the Holocaust.  Author Ella Burakowski skillfully brings their story to life on the pages of this gripping book.
Hanna and Leib Gold are a hard working and well off couple who have an idyllic lifestyle in the Polish town of Pinczow with their three children: Shoshana, Esther and 12 year old David. That all changes when Germany invades Poland in 1939 and the Jewish residents are forced out of their homes; from town to town neighbourhoods, businesses and schools are being destroyed. Leib is in the middle of making arrangements for his family's safety when the Nazis arrive to round up the Jewish people in Pinczow for transport to the Treblinka death camp. He convinces Esther and the children to stay with a family friend and promises to join them the next day.  When the next day arrives, Leib has vanished and Hanna and the children must find a safer refuge to avoid sure death.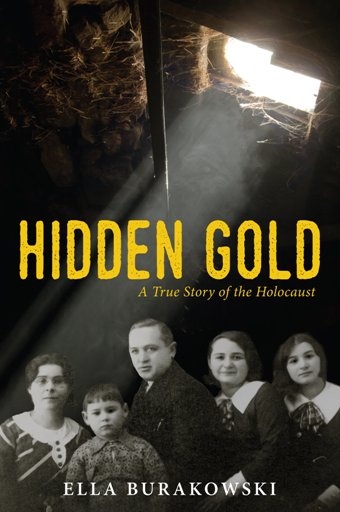 So begins a true story of terror, suspense and deplorable conditions that lasts more than two years. In a place where everyone is afraid, neighbours turn against neighbours, gentiles betray Jews and Jews victimize each other hoping to survive the Holocaust.  All the while, the Nazis grow more determined to implement Hitler's "Final Solution" of eradicating Jews from Europe.
Hanna Gold and her three teenage children share a strong loving bond that is the foundation for all of their decisions. They meet unsavory, hateful people and witness atrocities beyond belief but with the savings that Hanna was able to carry, sewn into her garments and the help of some trusted friends, she is able to negotiate a hiding place for her family. It is fraught with danger from everywhere – the neighbours, the soldiers, possible starvation, limited funds, filthy vermin filled conditions and the fear of being discovered or betrayed.
In the midst of this hate, the bond among the members of the Gold family remains strong and they are able to muster the strength to support and love one another through the worst of times.
Hidden Gold: A true story of the Holocaust is the most recent non-fiction title in an award-winning Holocaust Remembrance for Young Readers Series published by the Toronto based publishing company Second Story Press.  This important series of books proves that you can talk to young people about serious issues. It resonates with children from all cultures and all walks of life.
Hidden Gold is well written and tells a fast paced and intriguing story about the real life experiences of the author's mother, a Holocaust survivor – Shoshana Gold and her family. It is Ella Burakowski's first book and it is based on the memories of her uncle David Gold. The author's mother passed away when Ella was just 10 but through David's vivid memories, she was able to piece together the story of her mother's family during the Holocaust. She said, "At the age of eighty-five, David relived his terrifying experiences so that future generations would never forget one of the most horrific events in human history."
Hidden Gold is recommended for readers aged 14 to adult. It is a page turning thriller and an exciting read, all the more tragic in that it is a true story. Black and white photos are included at the back of the book which show the Gold family, the enclosure where they hid and several of the items they had with them during their harrowing experience.
Ella Burakowski is an accomplished writer and a columnist with Canadian Jewish News. In Hidden Gold she tells a gripping story about survival during an horrific time in history. She doesn't sugar coat the hateful actions that are taking place but she still paints a picture of a loving family whose bonds strengthen over time. Each character is portrayed as an individual and also as part of a dynamic family unit. In doing so, she opens the door to all types of important conversations about history, trust, family values, personal growth and maintaining hope and faith in the face of extreme adversity.
Hidden Gold  is available in print (ISBN 978-1-972583-74-6) and as an ebook (ISBN 978-1-92753-75-3), at book stores and on-line book vendors.  For more information, contact secondstorypress.ca.